Duty called yesterday and I couldn't make the blog. Thank goodness I found a few minutes tonight. I really hope everyone is checking out all the cool ebook week specials. Here are a couple more that I've found.
Both books today come from fellow Romance Divas. RD is a great writers forum with an amazing amount of talent hanging out there.
Today's discounted read comes from author Jenyfer Matthews. In fact all of Jenyfer's books with Smashwords are discounted 25% off for read an ebook week. Check them out because you definitely don't want to miss these fantastic deals.
This cover in particular caught my eye a while back.
Here To Stay by Jenyfer Matthews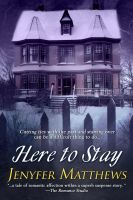 All Julia Sullivan wanted was a fresh start in a new place. But cutting ties with the past and starting over can be a difficult thing to do.
After leaving her husband and quitting her job, Julia was emotionally spent. She needed a quiet place to recharge and to think about what she wanted from life. She thought she had found just that when she inherited her aunt's oceanfront Victorian house in Haven, New Jersey. It wasn't going to be that simple, however. In addition to her new house being a complete shambles, her charming soon-to-be ex-husband Patrick, whom she discovers she still loves, arrives with the intention of winning her back. To complicate matters further, it seems as if her aunt's death wasn't an accident after all. Add to that, there's just something about her new house that seems to interest all sorts of people…
Today's freebie read comes from author Gemma Halliday. Fantastic author with an incredible array of fun to read books.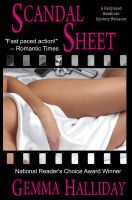 Scandal Sheet by Gemma Halliday
Tina Bender is the fearless gossip columnist at L.A.'s most infamous tabloid. That is, until she receives a threatening note, promising, "If you don't stop writing about me, you're dead." Teaming with a built bodyguard, a bubbly blonde, and an alcoholic obituary writer, Tina sets out to uncover just which juicy piece of Hollywood gossip is worth killing over.
In other news:
I was interviewed at The Forbidden Bookshelf today where I talk about my contemporary books and there is a chance to win a digital copy of Midnight Playground.