Now you might think I am wishing you a Hoppy April because this Sunday is Easter but that isn't exactly my intent. Although I do hope everyone has a great Easter weekend.
No this is Hoppy April because I went a little overboard on the blog hops this month. I think these blog hops are a lot of fun and I try to sign up for one a month. (I like to keep things simple) But this month there were too many good ones to pass up and before I knew it I'd signed up for three!
Oops.
Oh well, we'll all have fun and there will be so many prizes up for grabs you'll hopefully forgive me for going overboard. *grins*
The first one will be this week, April 5th – 6th. Come hop the blogs and celebrate Carrie Ann Ryan's birthday while you get a chance at all the prizes.
The second will be April 16th – 22nd. This is the Hunky Hero Giveaway Hop hosted by Riverina Romantics. Need I say more as to why I signed up for this one?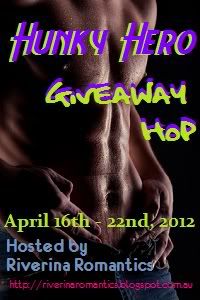 The Third blog hop is hosted by my friend, author Selena Blake. Selena's Spring Fling Blog hop will take place April 23-27th and is co hosted with Paranormal Romance and Reading Between the Wines.
See you at the hops!
Eliza